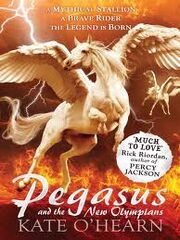 The New Olympians
is the third book in the
Pegasus
series.
As a Pegasus look-alike is spotted on earth, Emily, Joel and Paelen begin to suspect the CRU are cloning Olympians. Their investigation on earth leads to a shocking discovery and a battle to save Emily's world- though she has to decide which one. During this adventure, Emily has to trust her new/old friends to give her courage to make the hardest dissension of her life. 
Characters
Edit
To see more pictures of Pegasus and the New Olympians, click here.
Ad blocker interference detected!
Wikia is a free-to-use site that makes money from advertising. We have a modified experience for viewers using ad blockers

Wikia is not accessible if you've made further modifications. Remove the custom ad blocker rule(s) and the page will load as expected.